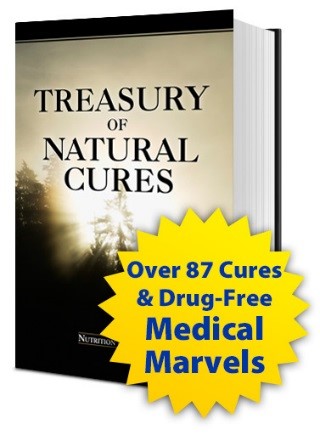 Act now to claim your copy of Treasury of Natural Cures...
516 pages of disease-crushing miracles that could save your life
Dear Reader,
The most valuable collection of Nutrition & Healing's natural disease-curing secrets ever published is reserved just for you...
A 516-page encyclopedia featuring the most effective drug-free cures and healing miracles you need to know about all... together in one place...
It's called, the Treasury of Natural Cures.
For the first time, this invaluable guide puts 87 of our most sought-after natural cures and treatments right in the palm of your hand.
These are the very same drug-free miracles that have healed countless patients over the past four decades— even when other doctors said they were "incurable!"
I'm talking about life-changing cures and treatments like...
The fast-acting nutrient used to eliminate arthritis pain! You'll get all the details on page 117.
7 incredible (and easy!) secrets that can drop your blood pressure by 20, 30 or even 40 points. We have seen them work time and time again. The step-by-step instructions are on page 59.
Rub away breast cancer?! The cancer-fighting mineral breakthrough on page 13 is giving new hope to cancer patients everywhere (wait until you see the shocking studies!)
Clogged arteries? It could be a hard-to-diagnose problem that they didn't tell your doctor about in med school. But don't worry because relief could be as easy as following the natural "artery cleaning" protocol on page 77.
The strange technique that can erase your gallbladder pain for good—without surgery. It works 99% of the time! Find out how on page 127.
Many of these cures and treatments are ignored or completely unknown to the power players in the medical community... even though they could save you or someone you love from a harrowing ordeal.
And for the next 24 hours you have the chance to get your hands on this masterpiece for only $39.95 $19.95. (We'll even pick up the cost of shipping.)
Now with your copy of Nutrition & Healing's Treasury of Natural Cures, you'll have these healing secrets all in one place...
But here's the best part... when you RSVP for your copy today, you'll lock in the lowest price we've ever offered at just $39.95 $19.95.
I have reserved one copy of this incredible cure collection just for you, but you must respond within the next 24 hours. There are only 4,462 copies of this amazing report left... and they won't last. After that time, we cannot guarantee your copy, so act now before it's too late!
Remember, shipping is absolutely free. To secure your copy, please take a moment to click the link below.
To your good health,

Matthew Simons